SAFETY IS OUR NUMBER ONE PRIORITY. FOR EVERYTHING.
At Coptersafety, safety is our priority. Our entire business is built around making a safer helicopter industry. Our focus for safety expands beyond pilot training, to act as a function of every part of our business and base. We are committed to developing, implementing, and constantly improving the strategies and processes to ensure all our activities meet all applicable standards of safety.
One aspect of safety we practice, is safety training for our maintenance team. Our team of simulator engineers are responsible for maintaining our five full flight simulators, so that we can keep training pilots. Sometimes, that means the crew needs to work on the simulator projectors situated on the top of our full flight simulators. Which is 8 meters (or 26 feet) above the ground. That is why it is vital that our team knows the right and safest practices.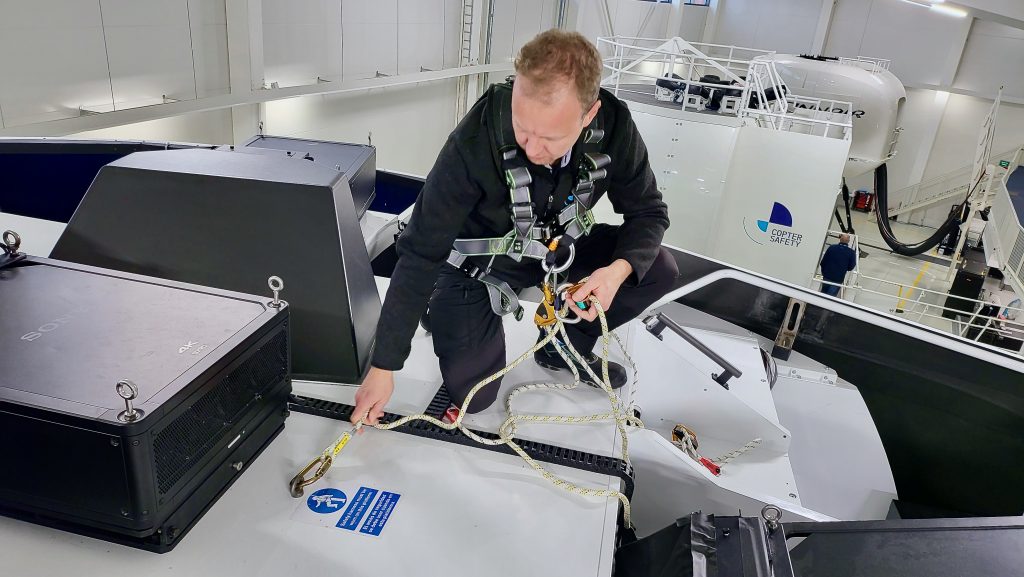 MAINTENANCE TEAM SAFETY TRAINING
In early December, we were visited by Alexander Heinonen from Safeguard Engineering. A company solely specialized in working at high heights and fall protection. They offer comprehensive height services from trainings, installations, and other products. 
Alexander gave a short and basic but simulator-specific training on the safe practices for working at high heights. Due to the specifications of the space, it was important to focus and practice on top of the simulator to ensure the safest practices are met. As our crew said after the training;
It was a good reminder of what you're supposed to keep in mind to stay safe.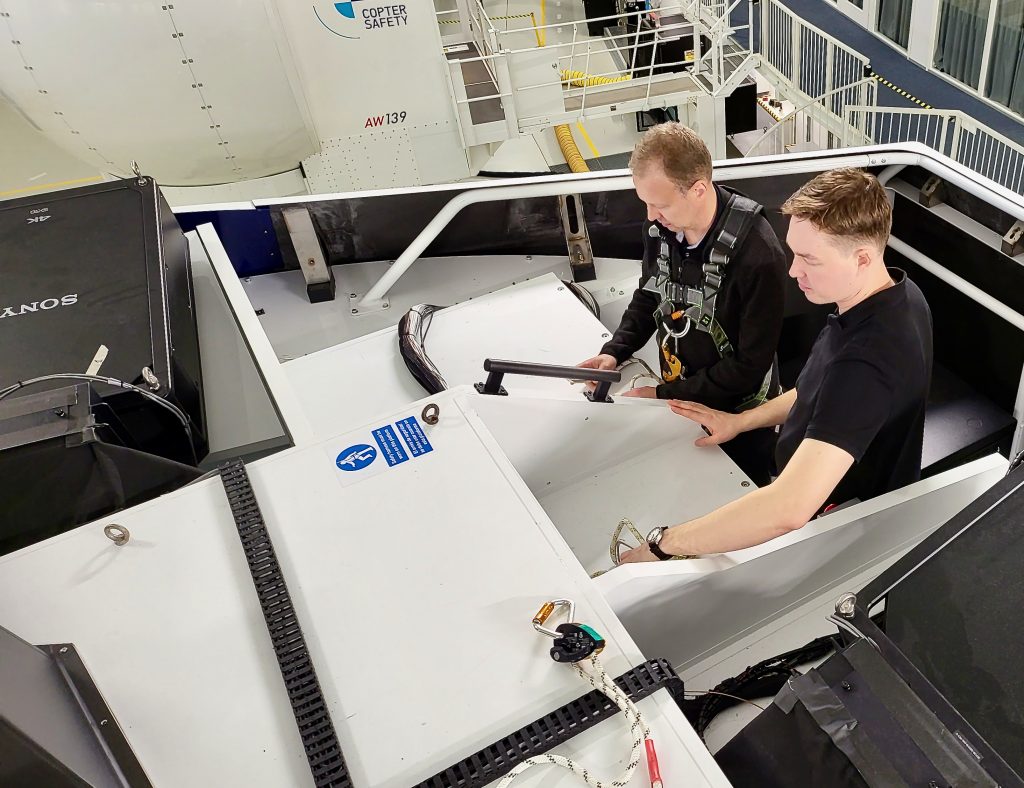 We pride ourselves in providing high-quality training and outstanding services. That's why we chose to work with Alexander and Safeguard Engineering, because they also understand and provide qualified training where trainees learn valuable skills. At the same time, trainees are training and asking questions based on their own experiences and environment. 
This is not a training that is mandatory by Finnish law but is a Coptersafety rule; that all maintenance team members must take a training of the safe practices for working on top of the simulator at one point, typically when they start at Coptersafety. While the maintenance crew may only need to go on top of the simulators a few times a year, safety is not something we'll ever compromise on.
Safety comes first. Here at Coptersafety we are committed to implementing and constantly improving the strategies and processes to maintain the highest levels of safety, in and out of the simulator. Join us in making the helicopter industry safer.