COPTERSAFETY PRODUCED "FROM THE GROUND UP" A DOCUMENTARY SHORT FILM ABOUT HELICOPTER PILOTS
HELSINKI, Finland – Coptersafety is proud to announce "From the Ground Up", a captivating documentary short film about helicopter pilots created by Isabella Presnal and No-Office Films.
"I grew up moving around the world for my father's career in aviation, and helicopters have been part of my life since I was a baby. I was tired of the false narrative Hollywood movies paint about helicopters," says Isabella Presnal, Coptersafety's Marketing Manager. "Creating documentaries that educate and evoke emotional responses is my passion, and I knew I needed to make a film about the rotor industry's most important factor – safety – with the actual lives of helicopter pilots."
Most Hollywood movies don't paint a realistic picture of the helicopter industry. The short film "From the Ground Up" debunks misconceptions about helicopter safety and features stories of seasoned pilots.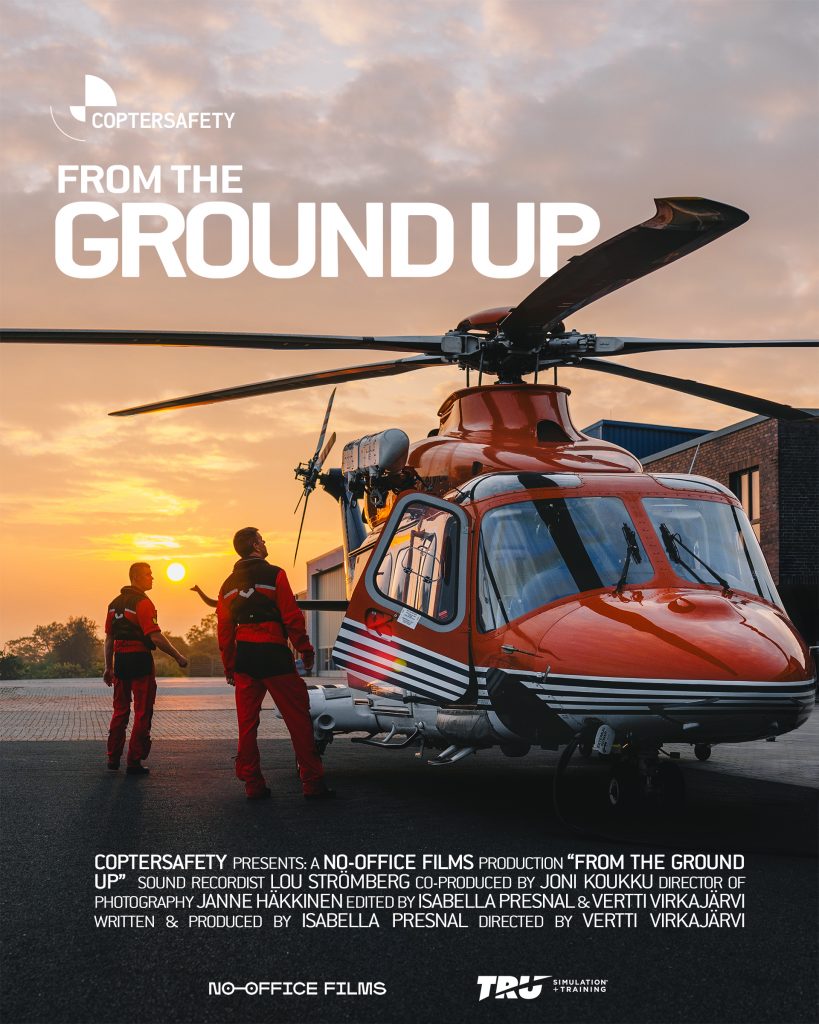 Andreas Hjert is an air ambulance pilot for Norwegian Air Ambulance working in northern Norway. Flying different mission types, particularly sling-load operations, Kristian Krog works as an aerial work pilot for Pegasus Helicopter. Marthijn over de Linden operates in the wind energy sector with HeliService, flying and hoisting wind turbine technicians in the North Sea. While flying helicopters is their primary job, they also oversee training their crews in and out of the simulator at Coptersafety.
"As training and safety are core of our being, it has been rewarding to be able to produce this documentary about our customers to share the stories of their day-to-day life as a helicopter pilot," states Hannu Marjoniemi, Coptersafety's Commercial Director.
Coptersafety is the largest independent helicopter simulator training center, aiming to improve helicopter safety. They provide world-class helicopter simulator training, which effectively and safely educates pilots. The film features Coptersafety's impressive fleet of TRU Simulation full-flight simulators designed for H125, H145, AW139, and AW169 licensed pilots.
"TRU is proud to be a part of this documentary and we're honored to know that our training devices help ensure pilots get home to their families safely at the end of every trip," shared TRU Simulation's General Manager, Gerald Messaris. "We strive to offer the most realistic and immersive training experience possible so pilots are prepared for any situation they may face."
"From the Ground Up" is for the rotor industry, to accurately represent the industry on the big screen, but it's also for audiences unfamiliar with the industry to gain a new perspective.
As Hannu Marjoniemi shared "We would hope this film encourages aspiring pilots to seek career opportunities in this unique industry where the safety and wellbeing of pilots, their families, and the rest of the crews and customers are not just essential, but the core of their operations."
There will be a preview screening of From the Ground Up, in Helsinki, Finland, on November 10th, 2023 held at Epicenter Helsinki. The industry premiere of the film will be at HAI Heli-Expo 2024 in Anaheim, California.
Join the screening event in Helsinki to see the documentary film: https://from-the-ground-up.confetti.events
ADDITIONAL INFORMATION AND PRESS IMAGES
Isabella Presnal, Customer Experience and Marketing Manager, Coptersafety Ltd.
isabella.presnal@coptersafety.com
Hannu Marjoniemi, Commercial Director, Coptersafety Ltd.
hannu.marjoniemi@coptersafety.com

About Coptersafety
Coptersafety is an independent helicopter pilot training provider for commercial, government and private organizations. The company provides simulator training for helicopter pilots around the world at its training facility next to Helsinki Airport. Coptersafety has taken the initiative to genuinely improve pilot training to ensure the safety performance of the operators.